Mira turned 100 last year, and during their history they have created some world-first innovations that have shaped the future of showering. The Mira Evoco range is their next step into the future.
The only way to describe the New Mira Evoco range is 'Ultra-sleek'. Packed with features, including the innovative Mira HydroGlo™ technology and Mira MagniFlo™ technology, it makes every shower an experience to truly treasure.
The range has three different options to choose from: Dual Outlet including Bath fill, Dual Outlet, and Triple Outlet including bath fill. All options are also available in three colours - Matt Black, Brushed Nickel and Chrome.
First, let's look at the Dual Outlet Shower with Bath Fill...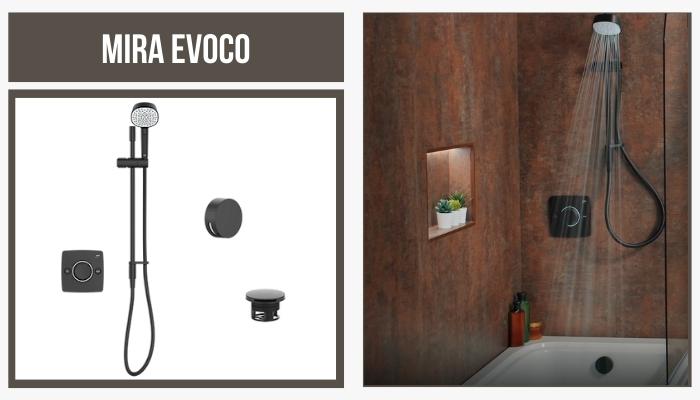 Relax under the 4-spray showerhead or simply use the push button to switch on the indulging bath fill. Featuring a fully concealed shower mixer and a bath filler, it is suitable for all the family with the Mira CoolShield™ technology built-in, which stops heat transferring to exposed surfaces of the shower. With the new innovative Mira HydroGlo™ technology, illuminating at the perfect temperature means you no longer get into a lukewarm shower. The Mira MagniFlo™ technology provides consistent power to both outlets at the same time, for invigorating performance, even at low pressures.
---
Now onto the Dual Outlet shower..
This shower has the same built-in features as the dual outlet with bath fill, but instead of the bath fill this shower just has two showerheads. Boasting a large 250mm deluge overhead (which is carefully engineered to maximise flow and coverage) and a 110mm showerhead, giving you a choice of 4 different sprays by simply switching between each option. For the ultimate indulgence, why not use both outlets at the same time!
---
And finally, the Triple Outlet Shower..
With all the features of the other two models, this shower gives you the ultimate showering experience in one shower. You get the ultimate choice with triple outlets - the deluge overhead, 4-spray showerhead and a bath fill, all in one product. Having the three outlets, it has everything you need to suit every mood. Choose the overhead for drenching refreshment, the handset for precision control, both for spectacular indulgence, or a luxurious bath for the ultimate relaxation.
---
A bit about the Mira HydroGlo technology…
Mira launched this new technology last year to ensure you never have to step into a cold shower again. No more dipping your arm in only to feel that chilly sensation of a shower still warming up! Now your perfect shower starts before you step in.
Built into the shower's sleek controls, their clever warm-up indicator will pulse as your shower comes up to your pre-set temperature. Then, when it gets to the right temperature, the control illuminates with a distinctive circular light, ready for you to step in and enjoy an indulgent shower. The Mira HydroGlo™ is completely self powered - so there's nothing extra to install and absolutely no maintenance. No batteries or wiring needed!
Complete with a 5 year guarantee and WRAS & TMV2 approval, you get total peace of mind for you and your whole family.
You can see the entire range of Mira Showers here.
Please contact us if you need any help choosing the shower for your requirements.