Buy with more confidence, with our Lowest Price Guarantee on all shower parts and accessories.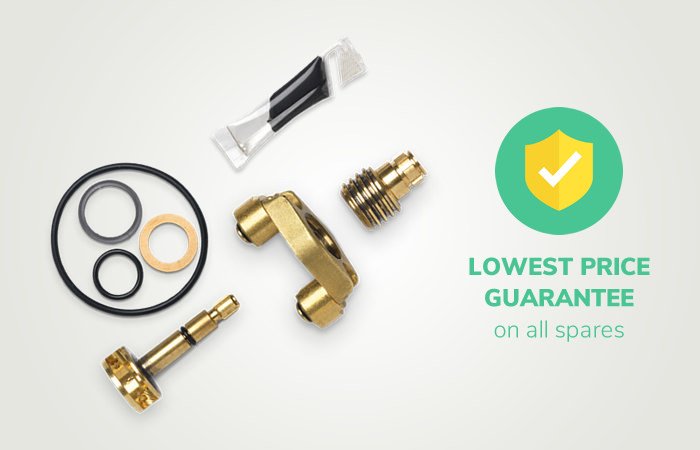 At National Shower Spares, we pride ourselves in being the UK's top shower spares supplier – whether it's for technical advice, excellent customer service, our extensive product offering, and even pricing.
Our Lowest Price Guarantee applies to shower spare parts and accessories.
How do we offer a Guarantee?
We realise that most people know little about shower spares, but it's the core of what we've been doing since 1999.
We only supply genuine, high-quality, well-tested products from 40+ top manufacturers in the UK – all bought direct for the best prices.
Furthermore, we don't have any expensive showrooms, nor do we advertise on TV or radio, which allows us to actively pass these savings directly onto our customers in the form of everyday low prices.
What about competitors?
Fully aware of an ever-competitive online marketplace, we continually check our prices against a wide array of online competition (including the likes of The Shower Doctor, PlumbWorld, and Discounted Heating) to ensure we're always a step ahead of the game in terms of pricing and great value for money.
Other companies and competitors have come and gone over the years selling spares like us. A few even offer similar Lowest Price Guarantees or Price Match Promises, but our knowledge of the showering industry and depth of stock is second-to-none.
Some of our competitors nowadays have opted to merely selling a selection of fast-moving parts – but we stock literally thousands of lines, even for models that are considered "antique" at 40+ years old now, including:
Shower heads, hoses, and holders
Soap dishes, wall outlets, and hose retaining rings/clips
Control knobs, levers, and handles
Cartridges (manual, flow, temperature)
Many other types of internal components, as well as front covers
We also provide detailed "exploded" breakdown parts drawings, so you can be sure that you're getting the best information and value around. (Try our Shower Spares Finder for the speediest way to find what you're looking for.)
This is all why, with this guarantee, we want to further show our customers that they can be confident they're shopping with the best and most trusted supplier in the UK for all their showering needs.
Full terms and conditions of the Lowest Price Guarantee can be found here, as well as any exclusions (if applicable).