Salamander Pumps has re-engineered its centrifugal range of shower, bathroom and whole house pumps, launching them under the new Right Pumps label. These redesigned pumps boast an array of new benefits, as well as being among the quietest-operating pumps in the UK today.
The 12-strong Right Pumps range supersedes the former ESP, RGP, RHP and RSP offerings, and much of the redevelopment has been done in response to installer feedback, in line with Salamander's focus on listening to its customers.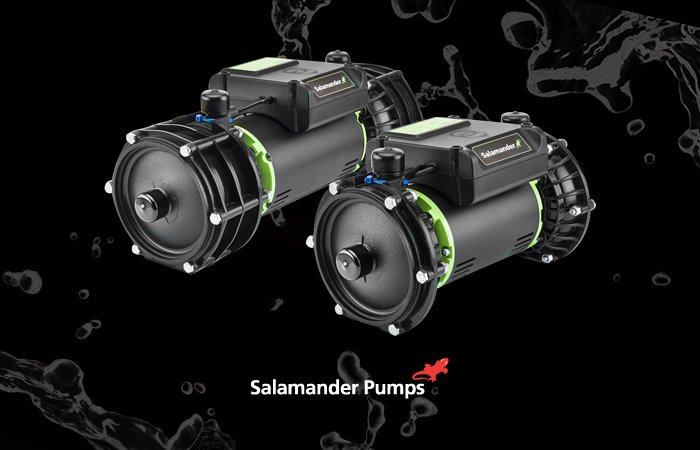 New benefits include a reduction in noise (working great with Salamander's anti-vibration pump mat); the use of crossover technology to allow the former RSP "shower only" pumps to power the whole house; the inclusion of a "spiders' web" design to strengthen the plastic end caps to further enhance strength, rigidity and reliability; and new colourways to better match the rest of the Salamander branding, much like that found on the CT Xtra, CT Force, and CT Bathroom ranges.
The universal (negative head) variants of the new Right Pumps also have improved electronic system protections, which guard the pumps against damage.
All pumps cater for a variety of different household systems and requirements – from single shower outlets, to complete bathroom boosting, and even whole house applications. Salamander Right Pumps all come with WRAS approval, a 2-year manufacturer's guarantee, and are suited for gravity-fed water systems.
The launch of the new Right Pump range reinforces Salamander's reputation for manufacturing some of the quietest and most reliable pumps on the market. A preview of the Right Pumps was held at the Plumbing & Heating Exhibition (PHEX) on 17 May in London, and are now available for general public sale.
---
Salamander Right Pumps – for showers only
These 4 pumps are ideal for boosting supplies to an individual shower in a bathroom or en suite. They employ single impellers for boosting one water supply (either cold, hot, or mixed).
Supplied with AV couplers and isolating valves as standard, along with premium carbon seals.
Available in the following options:
---
Salamander Right Pumps – for the bathroom
The next step up in the Right Pumps range allows for boosting to all bathroom appliances, but can still deliver great performance to an individual shower if that is the only requirement. This is achieved through utilising Salamander's innovative crossover technology.
Twin impellers are used for boosting both hot and cold water supplies simultaneously.
All pumps are fitted with special anti-vibration feet to reduce background noise. Independent testing by Salford University has shown that the RP50PT is the quietest twin-ended plastic shower pump that is available in the UK market today, generating just 45.5dB of noise when in operation.
Available in the following options:
---
Salamander Right Pumps – for whole house use
Finally, these pumps are capable of boosting water flow throughout the entire house, as desired.
These remaining Right Pumps are supplied in either single- or twin-ended centrifugal variants, as well as positive or negative heads, depending on your exact needs.
Their continuously-rated induction motors produce even better efficiency.
Available in the following options:
---
'A Right Pump to solve the problem'
Salamander's technical director, Gareth Richards, explained the reasoning behind the new, consolidated range: "Our research and development team have spent over five years overhauling the product range, developing cutting edge technologies that are new to the pump market, and combining that knowledge with feedback from installers and householders.
"Some of our customer data showed that having such a wide range of pumps was making it more difficult to choose the right pump for the job, so the launch of Right Pump means a simplified range with clearer product names to help installers. It also involves advanced technology incorporated into every product, and a new look that is more in keeping with our brand and modern product design."
He added: "Essentially we are delivering upgraded pumps at the same price, but with added functionality.
"Whether the need is to power a single shower or a whole house, there is now a Right Pump to solve the problem."
You can browse through the entire portfolio of Salamander's new Right Pumps range here.
Alternatively, you can also shop Salamander's complete pumps and accessories selection.
Please contact us if you need any help choosing the best pump for your requirements.